Finnegan's Farewell at Renault Winery
March 26, 2022 @ 7:00 pm

-

10:00 pm
An Interactive Musical Comedy Dinner Show with a fun Irish twist
Come and pay your last respects and raise a glass to the dearly departed Patrick James Finnegan.
After winning millions in a Casino, Paddy sadly returned home to fall off his ladder while painting. Father Seamus presides over this traditional Irish Wake filled with song, laughter and music.
Get to know the whole Finnegan family in this FUN interactive comedy complete with authentic Irish dinner!
TRADITIONAL IRISH MENU
1st course
SHAMROCK SALAD
Asparagus, Snap Peas, Celery, Arugula, Spinach with Mustard Vinaigrette
2nd course
POTLUCK
Corned Beef, Bangers, Whipped Potatoes & Braised Cabbage
3rd course
GUINNESS CHOCOLATE CAKE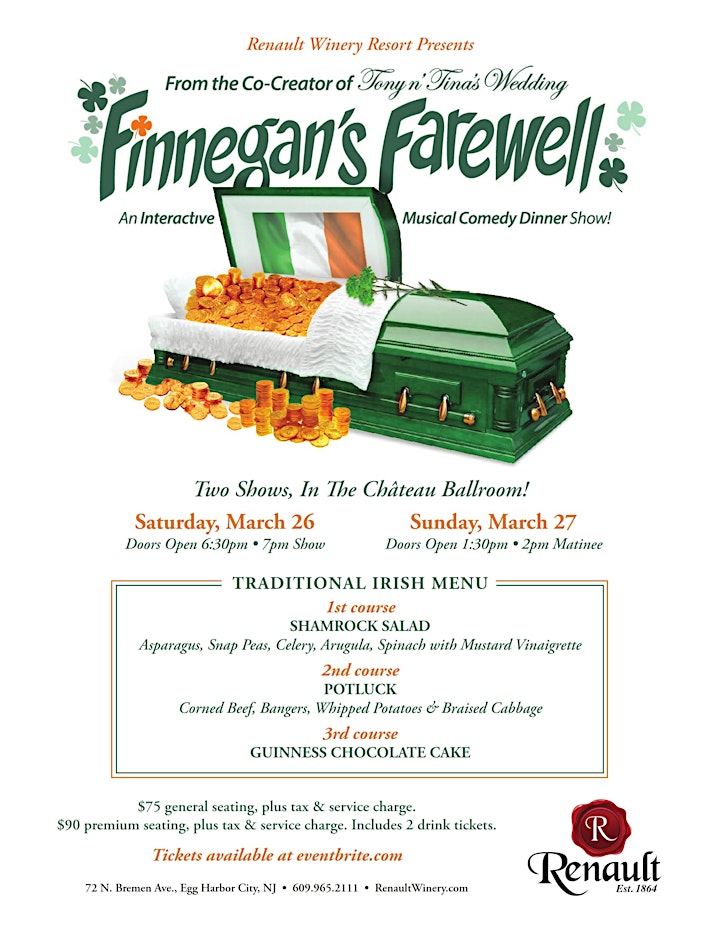 Do you have an event you would like to submit to FYI South Jersey?
Send the details to info@fyisj.com!