Shorebirds on the Bay
May 24, 2022 @ 2:00 pm

-

5:30 pm
Join CMBO Naturalists on this special trip to the Delaware Bayshore beaches!
This is the best time of year for migrating shorebirds. Red Knots, Ruddy Turnstones, and many more birds are stopping over to feed on Horseshoe Crab eggs before heading to the high Arctic to breed. We'll visit several protected shorebird hotspots in our search for shorebirds and Horseshoe Crabs in action!
We do not set a firm daily schedule in advance, leaving us flexible to maximize birding opportunities, taking advantage of weather conditions, tides, and recent bird sightings. We may walk up to 1.5 miles, over generally level, sometimes muddy or sandy terrain.
PREREGISTRATION REQUIRED.
SPOTTING SCOPES ARE HIGHLY RECOMMENDED FOR THIS TRIP
COST: $15 members, $20 nonmembers.
Interested in becoming a member? Please click on the following link to learn more or join: Become a Member today!
IMPORTANT INFORMATION:
We bird in all weather. Be sure to check the forecast in advance and dress in layers appropriate for prevailing weather conditions. The weather in Cape May can differ considerably from nearby inland areas and may be warmer, colder, or windier so it's best to be over prepared. We may have to bird in the rain, so please bring your rain gear.
TRANSPORTATION: Please arrive at the appointed time with a full tank of gas, as transportation to field sites is by private vehicles.
We may walk up to 1.5 miles, over generally level, sometimes muddy or sandy terrain. Some trips involve walks over jetties.
ACCOMMODATIONS: For those of you traveling from further afield and looking for somewhere to stay, please take a look at our list of Business Supporters of the Cape May Bird Observatory below:
Cape May is a popular place, so we suggest making reservations as early as possible. Accommodations are the responsibility of participants and are not included in the price.
NEW JERSEY AUDUBON'S PROGRAM GUIDELINES:
Fully vaccinated people may attend outdoor programs without masks. If you are unvaccinated, please mask up. Please do not come to a program if you are sick, have a sick family member or have reason to believe you may have been exposed to the COVID-19 virus.
CANCELLATION: CMBO programs require a minimum number of registrants to run, five days in advance of the start of the tour, but are seldom cancelled. If we do cancel, due to lack of participation, severe weather, or unforeseen circumstances,we notify all participants in advance and all are eligible for a full credit or refund. Participants may cancel without penalty if greater than 30 days in advance. Cancellations 10 to 30 days in advance may be subject to a 25% service charge. No refunds or credits for cancellations less than ten days in advance unless due to health emergencies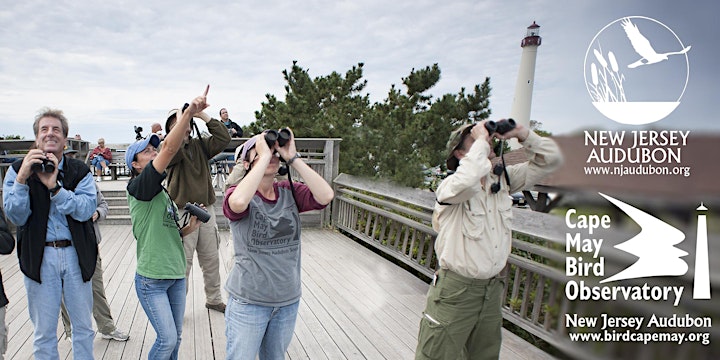 Do you have an event you would like to submit to FYI South Jersey?
Send the details to info@fyisj.com!