St. Paddy Pub Crawl & Ryfe Two Year Anniversary Al
March 12, 2022 @ 9:00 am

-

March 13, 2022 @ 3:00 am
St. Paddy's Pub Crawl & Ryfe 2nd Anniversary Party
Join us on March 12th for a St Paddy's Bar Crawl and Ryfe Two Year Anniversary Celebration! We sold out last year so book early!
Doors open at 9a at Ryfe for giveaways, contests, drink discounts, $2 Mimosas, $3 Bloody Mary's and our annual kegs and eggs breakfast. Door prizes for the first 40 folks at the door! T-shirts, sunglasses, gift certificates, food and drink prizes will all be given out.
The crawl officially begins at 11a as our culinary and libation partners unite to offer specials and giveaways throughout the day. You can start your crawl at Ryfe or any of our participating friend's locations. This year's tour includes legendary Santucci's in Ventnor, Diners Drive Ins & Dives-Famed, Vagabond, and the best on-the-water location in AC, Wonder Bar. Each guest will need to collect a bar crawl item from each location to participate in the evening giveaways at Ryfe (details will be sent after you register).
Complimentary shuttle service will loop around the area taking you from one stop to the next. Our loop will begin at Ryfe at 12p and go to Santucci's Vagabond, and the Wonder Bar and back to Ryfe. So if you start at Vagabond, your first stop is Wonder Bar and so on. You can stay anywhere as long as you like but we suggest about 60 minutes per location so you get a flavor of each location and make it to them all!
In addition to the Crawl, Ryfe will be celebrating its 2 year we-survived-the pandemic Anniversary party all day but at 6p a special surprise giveaway will be made, VIP awards given out to our most devoted Ryfers, live music starts, more food specials as our summer menu is introduced with our customary weekend chalkboard specials, and a whole lot more! It's debauchery meeting chaos surrounded by a heavy dose of keep your shit together!
QUESTIONS
– When does the crawl end? Only when you decide it does. We'll stay open as long as you like!
– Can I take my own transportation to the other locations? Sure! Just make sure you do so responsibly.
– Can I bike to the location? Absolutely! We expect many locals folks to pedal their way from one spot to the next and the Ryfe – Santucci's portion of the ride can be made along the AC boardwalk with ocean views and breezes!
– Can I go to any bar in any order? Yep, the only rule for the crawl is "survive and advance"!
🎉 Registration Includes
🍀Complimentary welcome drink
🍀Complimentary drink cup
🍀Exclusive access to drink specials at crawl bars
🍀Exclusive access to food specials at crawl bars
🍀VIP access to seating and dinner reservations for Ryfe at Night Party
🍀Complimentary transportation to bars on bar crawl
🍀Participation in giveaways, tournaments, and raffles
🍀Entry to the Ryfe Anniversary celebration after-party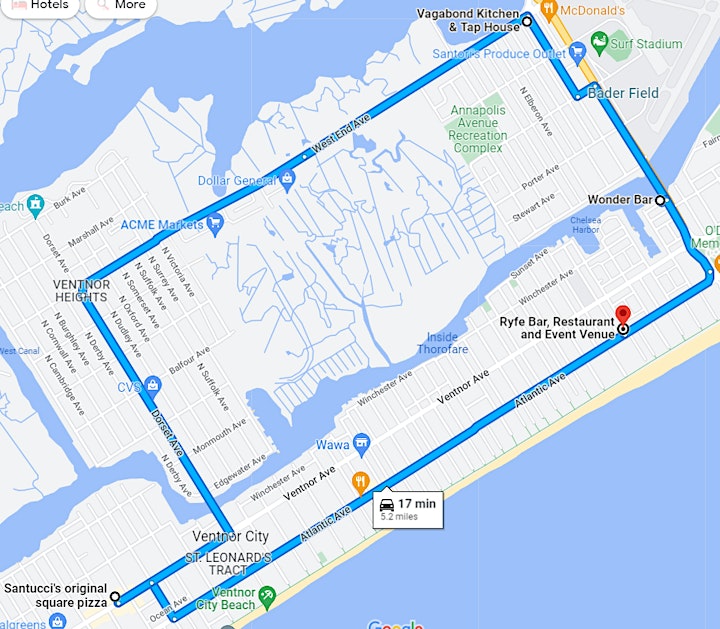 Each stop is no more than a 5 min shuttle ride or 8 min bike ride to the next with each location no more 1.5 miles from the next.
Do you have an event you would like to submit to FYI South Jersey?
Send the details to info@fyisj.com!